Kits
Catalog No.
Product
Quantity
MSDS

*

Price
Instruction
PF201-0.25-EX
PUREfrex®2.0
250 µL for reaction
–

$ 200
€ 150

PF201-0.25-5-EX
PUREfrex®2.0
1250 µL for reaction
–

$ 867
€ 650
Overview
PUREfrex® was launched in 2011, now we improved the protein productivity of PUREfrex® and named the advanced version "PUREfrex®2.0".
We modified the preparation methods of all components that were purified from E.coli and optimized the factors' composition. As a result of this modification, PUREfrex®2.0 achieved 2-10 times higher protein productivity than the previous version.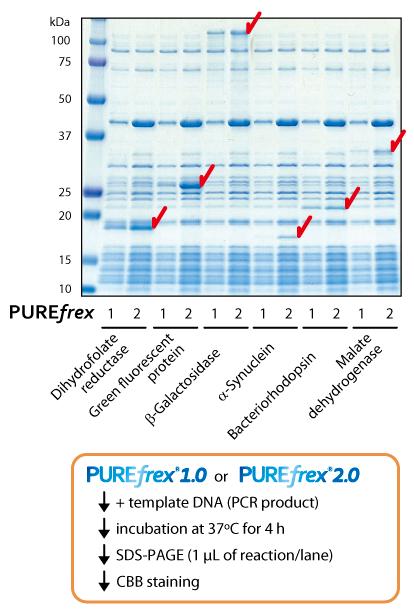 By improving the purification process of components of PUREfrex® kit, contamination of RNase and β-galactosidase are greatly reduced, in addition to that, lipopolysaccharide (LPS) is also reduced to around 0.1 EU per 1 µL of reaction mixture. All proteinous components of PUREfrex®2.0 have no tags for purification and detection. It allows to fuse your protein with any tag to purify the product.
Contamination's test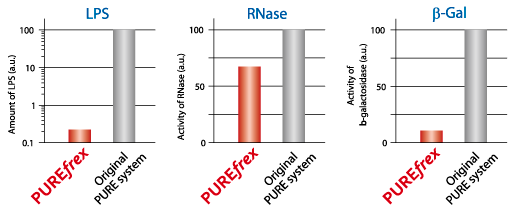 Affinity purification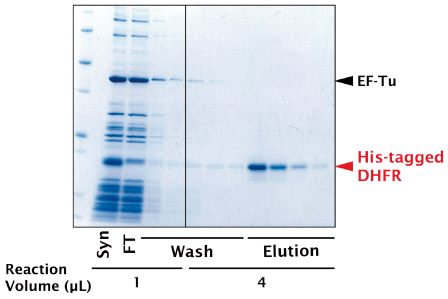 30 µL of reaction was incubated in 37 °C for 2-4 hrs.
270 µL of Binding buffer (50mM Tris-Cl pH8, 500mM NaCl, 20mM MgOAc

*

) was added to the above reaction.
* To prevent the dissociation of ribosomes
30 µL of 5% Nickel Magnetic Beads (PureProteome™ ;Millipore) suspension in Binding buffer was added to the above.
Incubated for 1-2 hrs at room temperature.
Washed the Nickel Magnetic Beads with Binding buffer.
Eluted His-tagged protein by Elution buffer (50mM Tris-Cl pH8, 500mM NaCl, 100mM imidazole).
When your protein needs an assistance of molecular chaperone or a formation of a disulfide bond to form a correct conformation, we have supplemental reagents for PUREfrex®2.0, molecular chaperon and disulfide bond isomerase.
Contents
Reagent
Quantity
Description
Storage

*1

Solution I
125 μL
Amino acids, NTPs, tRNAs and substrates for enzymes etc.
-20 °C
Solution II
12.5 μL
Proteins in 30 % glycerol buffer
-20 °C or -80 °C *2
Solution III
25 μL
Ribosome (20 μM)
-80 °C

*2

DHFR DNA

*3


(text)
10 μL
PCR product containing a gene encoding dihydrofolate reductase (DHFR) from E.coli as a positive control. (20ng/μL)
-20 °C
Protocol
Thaw Solution I by incubation at 30 °C for 1 minute, and then cool on ice.
Thaw Solution II and III on ice.
Mix Solution I, II and III respectively by vortex and centrifuge briefly to collect each solution at the bottom.
Assemble the reaction mixture in a tube as follows. Add the template DNA to 1 – 3 ng/µL per 1 kb.


| | |
| --- | --- |
| Water | 7-X μL |
| Solution I | 10 μL |
| Solution II | 1 μL |
| Solution III | 2 μL |
| Template DNA | X μL |
| Total | 20 μL |

Incubate the tube at 37 °C for 2 – 4 hours on a heat block or a water bath.
Analyze the synthesized products. Please add the same amount of H2O to the reaction for the sample of SDS-PAGE.
Note
PUREfrex® is developed for in vitro research only. PUREfrex® should not be used for the therapy, diagnostic or administration to animals including human and should not be used as food or cosmetics etc. To avoid the contamination of nuclease, nuclease-free-treated water, reagents and materials should be used. We also recommend wearing gloves and mask.
"PUREfrex® is Registered in U.S. Patent and Trademark Office"