A template DNA encoding a target protein needs to be prepared by customers.
For the template DNA, you need to consider following features.
T7 promoter and ribosome binding site (Shine-Dalgarno sequence) are needed upstream of the gene of interest.
All stop codons (amber (TAG), ocher (TAA) and opal (TGA)) are available.
More than 10 nucleotides are necessary downstream of the stop codon.
Both circular and linear DNA (such as PCR product or plasmid DNA digested by restriction enzyme) are available.
T7 terminator is required downstream of the gene of interest for circular DNA.
T7 terminator is not necessary for linear DNA.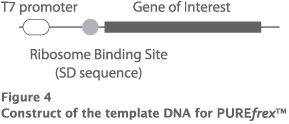 We have further information about template DNA, please check our FAQ site.
"PUREfrex® is Registered in U.S. Patent and Trademark Office"