HuCAL® stands for Human Combinatorial Antibody Library, a unique synthetic collection containing billions of recombinant human Fab antibodies which encompass the human antibody repertoire.
HuCAL® Custom Monoclonal Antibody Generation service is provided only in Japan. If you live in outside of Japan, please visit their site.
HuCAL® technology represents the cutting edge of monoclonal antibody generation:
Rapid in vitro selection and screening of antibodies
Flexible, modular Fab and fully human Ig antibody formats
High affinity monoclonal antibodies targeted to your specificity
CysDisplay® phage display technology – no animals required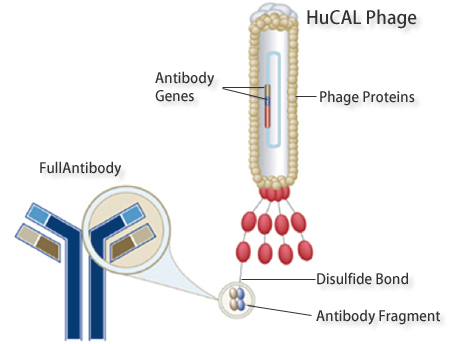 HuCAL was developed by our partner, MorphoSys, and is one of the most powerful methods available for producing human antibodies for research, diagnostic, and therapeutic use.